Radon Testing & Mitigation Services
As a certified radon testing and mitigation specialist, I can test to see the levels of radon in your home. A typical radon gas test takes about 24 hours to complete and provides an instant printout of the radon levels present in the home. If it is found that you have above the recommended level of radon gas, it is important that you work to reduce the amount of radon to safer levels. It is recommended that all houses be treated for radon, new or old. Most homes are only tested for radon when they are being bought / sold, but they should be tested periodically, especially homes with crawl spaces.
My radon gas certifications include:
National Radon Proficiency Program
Residential Radon Measurement Provider (certification #103899 RT)
Residential Radon Mitigation Provider (certification #103900 RMT)
What Is Radon?
Radon is an odor and colorless gas, produced by uranium decay in rocks and soil that is found in every state. The only way to find out if your home has radon is by testing.  According to the United States Environmental Protection Agency, or EPA "radon is a naturally occurring radioactive gas that can cause lung cancer". In fact, Radon is as cancer causing as both tobacco and asbestos, resulting nearly 20,000 deaths a year. Radon can have a big impact on your home's indoor air quality, and low level radon exposure over time is much more harmful than short periods of high exposure.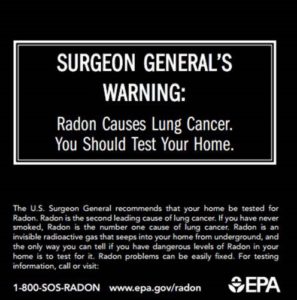 Radon Gas In Connecicut
Did you know that radon is present at elevated levels in about one out of every five homes in Connecticut? The areas that are more likely to have homes with elevated levels of radon gas are along the coast in Fairfield, New Haven, Middlesex, and New London Counties. If you are in need of radon testing or mitigation in your CT home, contact me today to schedule an appointment.